An investment property is one of the best ways to have a steady income and build your wealth. Although it comes with risks as all investments do, it also has the potential to generate positive cash flow that you can use to upgrade your property as long as you maintain good management.
What are the Biggest Advantages of an Investment Property?
It's Easy To Get Started
You don't have to be a professional to start investing in real estate. If you're looking for a source of long-term income, you can start looking for an affordable home for sale, make a purchase, then rent it out, as long as you research the market where you want to invest and learn basic strategies on how to maintain your property.
Passive Income Stream
As a landlord, you're in charge of deciding how much to bill your tenants and how to best manage your property. Make sure to evaluate first the current market valuation, location, and condition of the property before deciding on a rental price.
When you start to receive monthly income from the rental fees, you'll have a guaranteed reliable passive income and all your initial investments will start to pay off. Remember that rental prices continuously go up, so always keep yourself updated to make the necessary adjustments.
Easier Mortgage Payment
Your profit works to your advantage because part of the monthly rent covers the mortgage payment. When the tenant's rent is used to pay down property debt, it builds wealth for the owner, and they can get more out of the home's value by selling or refinancing.
Increased Property Appreciation
Investors can use their rental property's appreciation value to buy or sell additional properties that best suit their financial goals. It's recommended to research trends and recent sales in the area you prefer to invest in as appreciation varies from location to location.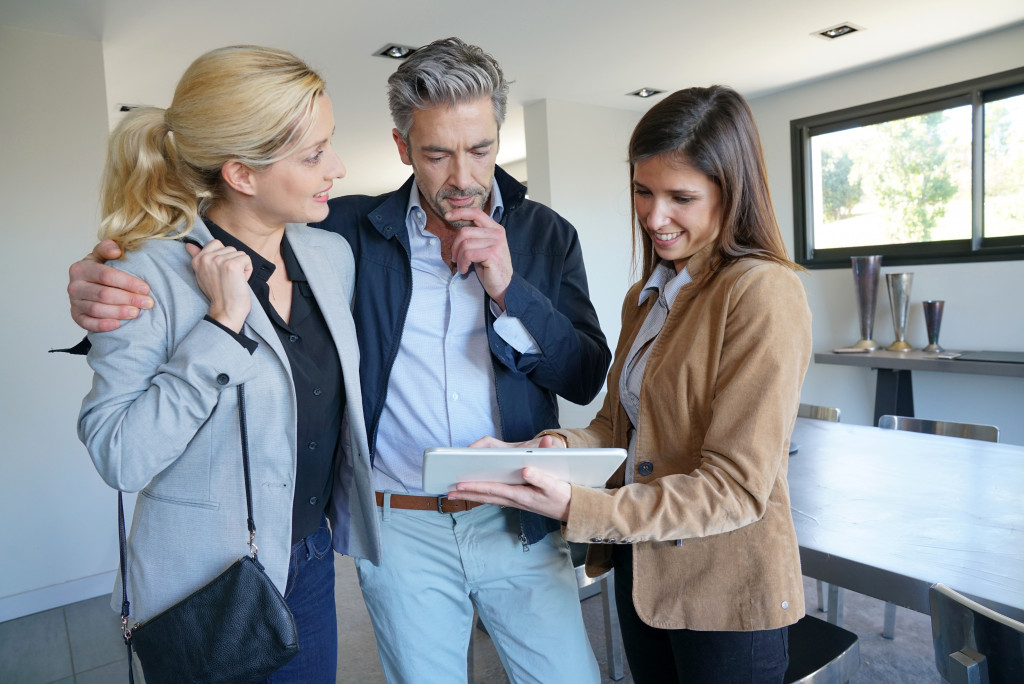 How to Effectively Manage Your Investment Property
Address Any Concern Quickly
You should always strive to address any issues right away, especially maintenance concerns. This will make the tenants know that you care about their personal satisfaction and the home they live in. If there are issues that can't be handled immediately, make sure to communicate that information and offer alternative solutions.
Show genuine concern when they bring up a complaint because dismissing their requests can quickly create hostility. Make them feel that their concerns are important and that you'll fix them as soon as possible. It's better to make them feel that you're on their side than being their nemesis.
You should set business hours so tenants can conveniently contact you, and make sure to readily respond to their emails or calls. Also, have an emergency plan in place, so they know what concern can wait until business hours resume or what is considered a real emergency.
Be Professional
This is your business, so you should always present yourself professionally and avoid clouding your judgment with emotions. For instance, if a tenant is screaming, don't scream back or deliberately ignore their requests to avoid putting yourself in legal jeopardy. Stay calm at all times, acknowledge their concerns, and keep a record of everything to back you up in case you need to speak to the legal authority.
Perform Routine Maintenance
Regularly perform monthly, seasonal, and yearly maintenance to ensure your property stays habitable. Routine maintenance is important to avoid larger issues from happening and to prevent emergency repairs as they can be expensive.
Your monthly tasks can include checking for pests, testing smoke detectors, and checking fire extinguishers. Seasonal tasks are cleaning the gutters, trimming trees, checking for water damage, and inspecting the roof after heavy snow. Yearly tasks include flushing the water heater to remove sediments and changing filters in the air systems.
Send Rent Reminders
Inform your tenants when the rent is due through a call or email. These reminders are helpful for them and also help you be firm and clear about your expectations. Even if you are considerate of their circumstances and maintain a friendly relationship with them, this is still your business.
You can use a property management tool to automatically send out reminder emails, or manually set up a recurring email that they will receive 3 to 5 days before the deadline.
Diversifying your investment portfolio is important to increase your chances of having higher earnings. Real estate is a sound investment option as you can have a long-term passive income and enjoy huge tax deductions. When you own a rental property, it allows a steady income stream that makes you achieve your ultimate financial goals.